About
Link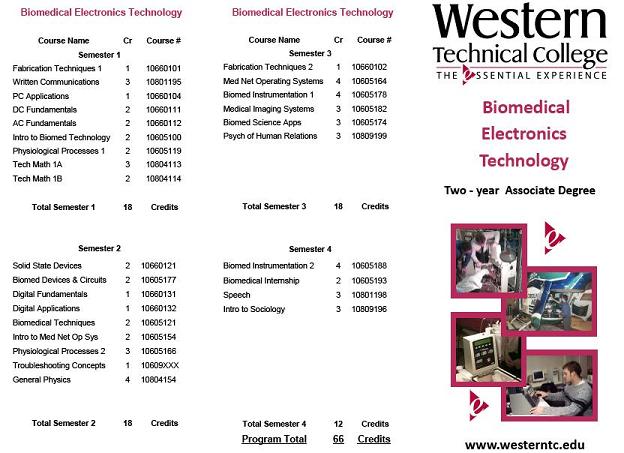 Student's Experience
By: Anthony Whitman, Biomedical Electronics Student, Western Technical College, La Crosse WI 12/15/08

Western Technical Collegehas proven itself to be a worth while experience. As a student who has gone through the program, I have taken from it valuable skills and knowledge. Not only have I learned the core values and abilites that every biomed will need, but I take the necessary intrapersonal networking skills that are required today in the working field. No longer is it so much about actual mechanical dexterity and electronic expertise, as it is about your sociability and communication with the customer. Talking effectively with nurses, doctors, and managers is just as much apart of the job as tearing into a dialysis unit.

Fred Dorau, the head instructor, brings a classically unique teaching style with a modern twist to the classroom. "Fred Speak", or his general euphemisms, will not only entertain, but they let you in on what kind of guy he is. "The Modern Oath of Hippocrates" is the topic he begins every class with and bases his teachings upon it. Overall, he is one of the most dedicated instructors I have ever met. Mr. Dorau, although he would much rather be called Fred, tends to go way above and beyond the basic requirements for his job position. He thoroughly loves the job and enjoys making his students successful.

In conclusion, the program is expanding and is only going to get better. I personally have no regrets joining the program. It has only been beneficial to me and I look forward to the great opportunities it has opened up for myself. Not only would I reccommend the program at WTC, but just the Biomedical Electronics field in general. It is an expanding job market that offers great benefits and an excellent feeling of satisfaction at the end of a day of work.

Here are some great links and examples of the biomedical field's success:
Community content is available under
CC-BY-SA
unless otherwise noted.