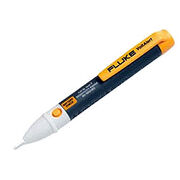 About
A voltage tester is the simplest of these tools. It consists of a small neon bulb with two insulated wires attached to the bottom of the bulb housing; each wire ends in a metal test probe. This type of tester is always used with the current turned on to determine whether there is current flowing through a wire and to test for proper grounding.
For example, if you suspect an electrical outlet is faulty, insert one probe of the tester into one slot in the outlet and the other probe into the other slot. The light in the tester should light. If it doesn't, the outlet may be bad.
Products
DIY
A simple DIY voltage testers (non-voltmeter) used to detect the presence of voltage. They range from a light bulb with test leads used in low voltage automotive applications, to neon testers that glow when the probes are connected across a live 120 or 240 volt circuit.[1]
References
Links
Video