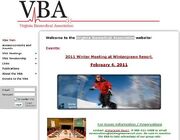 About
For years many BMETs had discussed establishing a statewide organization in Virginia. Although North Carolina had had a successful Biomedical Association for years, and there had been several independent regional organizations in Virginia, a statewide organization was not established until 1994.
For the better part of the 1993, Mary (Frye) Coker, Steve Haupt and Ryland Paxton performed the exhaustive research and background work needed to get started. On February 5th 1994, an organizational meeting was held at the Wintergreen Resort, with the idea that a recreational setting would help create a more informal and interactive atmosphere. Greg Johnson, then president of the North Carolina Biomedical Association, came to speak with us and offered encouragement and guidance from the NCBA. This meeting was wildly successful can be considered to be the beginning of the Virginia Biomedical Association.
Contact
Virginia Biomedical Association
P.O. Box 1958
Yorktown, VA 23692-9998
Meetings
On Sept 18-19, 2008, Virginia Biomed, Williamsburg, VA held its annual winter meeting. In 2009, Mr Joseph Flannery is returning for his very popular look into the Joint Commission Standards and Survey process as only a JC surveyor can.
Reference
Links
Community content is available under
CC-BY-SA
unless otherwise noted.