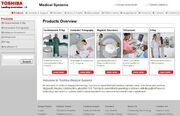 About
Toshiba America, Inc. (TAI) is the holding company for one of the nation's leading group of high technology companies, with a combined total of approximately 8,000 employees in the U.S. Together, the U.S.-based companies under TAI's umbrella manufacture and market a widely diversified range of modern electronics, each conducting research and development, manufacturing, sales and service in its field of expertise.
The U.S.-based Toshiba operating companies and some of their chief products are as follows: Toshiba America Electronic Components, Inc. (Flash Memory, LCD Panels, Microprocessors); Toshiba America Information Systems, Inc. (Notebook Computers, Storage Devices, Imaging Systems, Telecommunication Systems); Toshiba International Corporation (Power Generation Equipment, Industrial Electronic Equipment); Toshiba America Medical Systems, Inc. (CT, Ultrasound, and MRI); Toshiba America Consumer Products, LLC (HDTVs, Digital Home Theater Products).
TAI is a subsidiary of Toshiba Corporation, a world leader in high technology products, with 364 consolidated subsidiaries worldwide. Headquarters
Contact
Toshiba America, Inc.
1251 Avenue of the Americas
Suite 4110
New York, NY 10020

Second Source Parts
Second Source Services
References
Link
Community content is available under
CC-BY-SA
unless otherwise noted.