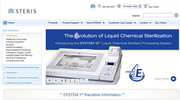 About
STERIS corp is the world's pre-eminent infection prevention, decontamination and critical and surgical care company, with thousands of customers in more than 60 countries. While the corporation was founded in 1987, our history dates back to the founding of The American Sterilizer Company in 1894, a long-time, globally leading innovator of sterilization products.
Today, through a series of strategic acquisitions and continual innovation of new products, STERIS holds one of the broadest portfolios of products in the industry. It stands at the forefront of efforts to prevent infection and contamination in healthcare and pharmaceutical environments, and is broadening its reach with products to meet the needs of defense, and industrial markets.
The accelerating pace of change in healthcare creates exciting opportunities for patient treatment and recovery. It also presents new challenges in medical device sterilization and the sterilization of environments and materials. At STERIS, we continually adapt and improve our broad, integrated product portfolio to help our customers in operating rooms, critical care units, and outpatient clinics: increase staff productivity, maximize patient throughput and meet rigorous sterility assurance standards and regulations worldwide. Product offerings include sterile processing and endoscope reprocessing solutions, surgical equipment for the operating room, critical care equipment, and emergency room equipment.
Contact
STERIS Corporation,
5960 Heisley Road, Mentor, Ohio
44060-1834 USA
1-800-JIT-4-USE · 440-354-2600

Products
Second Sources Parts
Second Sources Services
Auxo Medical
Crawford Diversified Services Inc
Medequip Engineering Service, Inc
Mediquip Parts Plus, Inc
Replacement Parts Industries, Inc
Sterilizer Services, Inc
World Medical Equipment

Link
Steris System 1 FDA Notice 12/03/09
Steris History
http://www.steris.com/
https://store.steris.com/OA_HTML/ibeCZzpHome.jsp?a=b
Community content is available under
CC-BY-SA
unless otherwise noted.