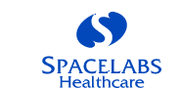 About
Spacelabs Healthcare combines a core of the world's most respected medical device and services companies. With offices worldwide and distribution channels in over 100 countries, Spacelabs Healthcare has the talent and resources to deliver on its promises of innovation. We connect the needs of caregivers and their patients with real-life integrated solutions. We offer value to our customers through a broad range of products and services that assist you in delivering the highest quality patient care as efficiently as possible.
The core of the Anesthesia Delivery & Ventilation business unit was formed by the acquisition of Blease Medical by OSI Systems in 2005.
Blease was formed in 1946 by John Blease who developed the 'Pulmoflator' positive pressure ventilator. For the first 14 years, Blease incrementally improved this product incorporating the company as "Blease Anaesthetic Equipment Ltd." in 1956.
In 1960, Blease began production of an entirely new line of ventilators, the "Manley" ventilator (named after designer Roger Manley) which featured two bellows.
In 1965, John Blease sold the company and retired. For the next 25 years, the company made incremental changes to the Manley ventilator technology however since the company had not developed any significant new products, the company became an increasingly minor player in the anesthesia market. Throughout the 1990s, Blease focused on research and development, delivering several new products based upon new technology platforms improving their market position. [1]
Contact
Spacelabs Healthcare
5150 220th Avenue SE
Issaquah, Washington 98029 United States
Phone: (425) 657-7200
Fax: (425) 657-7212
Toll Free: (800) 522-7025
Second Sources
Second Sources
Link
Reference
↑ Spacelabs Medical, Inc. Company History. 2011. Spacelabs history
Community content is available under
CC-BY-SA
unless otherwise noted.