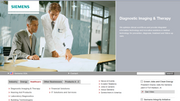 About
Siemens USA (Siemens Healthcare)is a global powerhouse in electronics and electrical engineering, and operates in the industry, energy and healthcare sectors.  For more than 160 years, Siemens has built a reputation for leading-edge innovation and the quality of its products, services and solutions.  With 428,000 employees in 190 countries, Siemens reported worldwide sales of $116.6 billion in fiscal 2008. For over 125 years, Siemens Hearing Instruments has dedicated itself to designing and building the most technologically advanced hearing aids to fit all types and degrees of hearing loss and cosmetic preference, so people with hearing loss can enjoy the world with better hearing and better living.
Contacts
Siemens Healthcare
10833 Valley View Street, Suite 200,
Cypress, CA, United States
phone: 1-800-SIEMENS (7436367)
usa.800siemens.us@siemens.com
http://www.usa.siemens.com

Biomedical Training
Does the manufacturer offer biomedical training? Yes!
biomedical training
Second Sources Parts
Second Sources Services
Link
Community content is available under
CC-BY-SA
unless otherwise noted.