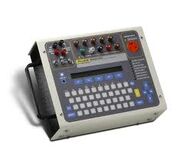 About
A Safety Inspection [inspection, electrical safety inspection] (abbreviated as INSP) is performed to verify that the physical integrity, safety, and performance of a device. [1] In accordance with National Fire Protection Agency (NFPA 99), 2005 edition, in all medical device types there are two types of safety inspections that are chould be performed 1). using a calibrated safety tester and/or 2). visual inspection. All hospital, non-hospital, and/or patient owned devices must be safety inspected prior to being authorized for use within the medical--this is best for patient safety!
Maintenance Data
Listed are recommended safety inspection guidelines based of NFPA 99, 2005 edition. Clinical Engineering no longer conducts reverse polarity testing, as it is not required by any regulatory agencies. The SI is performed with the medical device turned on and off under test. Lastly, BMETs/CEs shouldl flex the power cable at both ends to ensure conintuity of the device under test.
Recommended "maximum" safety inspection guidelines

| | Ohms | uAmps | uAmps |
| --- | --- | --- | --- |
| Ground Resistance | .5 | 300 patient care | 500 non-patient care |
| Leakage Current | N/A | <100 all leads | <50 between leads |
| Lead Isolation | N/A | <10 each lead with ground | <50 each lead with open-ground |
Links
University of Texas Safety Inspection policy
References
Community content is available under
CC-BY-SA
unless otherwise noted.