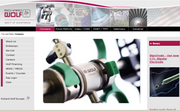 About
Richard Wolf Medical Instruments Corporation (RWMIC), a subsidiary of the German based Richard Wolf GmbH, is located in the heart of the Midwest just north of Chicago and has been servicing the entire United States since 1972. Our modern facility in Vernon Hills houses manufacturing, assembly, sales and marketing, repair, customer services and administration functions. The mission of Richard Wolf GmbH is to advance the science of Endoscopy through the continual support and advancement of research with leading universities and physicians.
Richard Wolf supports a broad range of endoscopic surgical specialties while also providing support to highly-specialized niche markets. Leading surgeons the world over work with Richard Wolf to develop endoscopic innovations, as well as assist in the improvement of existing products. As a result, Richard Wolf has pioneered many endoscopic products and procedures.
Our core competencies have always been in the design of optical systems and precision stainless-steel instruments. Additionally, we have expanded our portfolio to include a complete OR system of integrated video and electronics.
Richard Wolf has expanded its sales force to provide excellent service to its customers. With an extensive product offering in the specialties of Gynecology, Urology, General Surgery, Arthroscopy, ENT, Spine, Video, supported by excellent repair programs and financial services, Richard Wolf is truly the full service provider for all your Endoscopy needs.
Contacts
Richard Wolf
Medical Instruments Corporation
353 Corporate Woods Parkway
Vernon Hills, IL 60061-3110
Phone: (800) 323-9653
Fax: (847) 913-1488
Email: marketing@richardwolfusa.com

Second Sources Parts
Second Sources Services
Link
Community content is available under
CC-BY-SA
unless otherwise noted.