About
"Reverse osmosis (RO) is a physical separation process in which properly pretreated source water is delivered at moderate pressures against a semipermeable membrane. The membrane rejects most solute ions and molecules, while allowing water of very low mineral content to pass through. This process also works as an absolute barrier for cysts and viruses. The process produces a concentrated reject stream in addition to the clean permeate product."[1]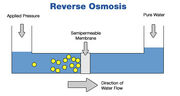 Manufacturers
AmeriWater
Applied Water Engineering
Better Water
Mar Cor

Models
CORALIFE Pure-flo 24
Second Source Parts
Second Source Service
Links
Monitoring Your Dialysis Water Treatment System by Northwest Renal Network
Design of High-Purity Water Systems
RO by How Stuff Works

References
Community content is available under
CC-BY-SA
unless otherwise noted.