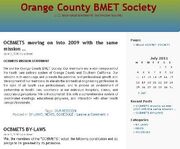 About
Orange County BMET Society is a vital component of the heath care delivery system of Orange County and Southern California. Our mission is to encourage and promote the personal and professional growth and development of our members, to elevate the biomedical engineering profession in the eyes of all health care professionals, and to provide an environment of partnership in health care excellence at our individual hospitals, clinics, and corporate organizations. We will accomplish this with a comprehensive system of coordinated meetings, educational programs, and interaction with other health care professionals.
Events
Links
Community content is available under
CC-BY-SA
unless otherwise noted.