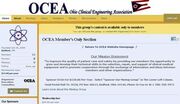 About
Ohio Clinical Engineering Association (OCEA) started in 1974 as a group of hospital engineers who were a part of a joint Safety Committee group of the Greater Cleveland Hospital Association. These engineers had a disagreement with the City of Cleveland over testing laboratory requirements for Medical Equipment that was in use in the city. After this disagreement was resolved, these engineers continued to meet on a regular basis and the organization Clinical Engineering Technology Association CETA was formed.
In 1980 the words North Coast was added to the name to designate the geographic area and NCCETA was created.
In the 1990's other organizations came into existence in Ohio. There was the Toledo Biomed Association, the Central Ohio Medical Equipment Technicians Association, and the Dayton Biomed. We are still in the process of collecting information about these groups and we are seeking your help. If you have further detail about these early organizations please contact a member of the Executive Committee.
In 2002, after being dormant for a few years, NCCETA was brought back into existence. In 2003 the decision was made to make the organization State Wide and the new name Ohio Clinical Engineering Association OCEA was selected.
Contact
Ohio Clinical Engineering Association
Post Office Box 46615
Bedford, Ohio 44146
Events
In 2008, Summer Meeting will be held on August 21st, 22nd, and 23rd at the Crowne Plaza Columbus North in Columbus Ohio and will include Seminars, Presentations, Vendor Exhibits, A Meet-n-Greet Magic Show, A Golf Outing and much much more. This year's theme is: "Medical Equipment Maintenance, The Magic Beyond The Toolbox". Be sure to keep an eye on our website for all of the details and we hope to see YOU there!
References
Links
Community content is available under
CC-BY-SA
unless otherwise noted.