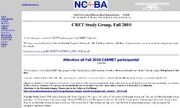 About
"We are the North Central Biomedical Association Wisconsin (NCBA-W), providing a forum for medical professionals in the biomedical engineering and technician levels, who are involved with biomedical equipment management. We strive to promote cooperation, education, formal/informal exchange of ideas and technical information related to the health care industry. Thus, helping to assure quality patient care and cost effectiveness for the health care provider."[1]
History
In September 2009, NCBA-W held its annual seminar and vendor show at the Park Plaza Hotel in Bloomington, MN. [2]
Events
NCBA (North Central), Grand Rapids, MN
Contacts
North Central Biomedical Association
P.O. Box 93
Elk River, MN 55330
vsnyder4@fairview.org
References
↑ NCBA-W., "Seminar And Vendor Show Booklet". 2009 http://www.ncbiomed.org/seminars/2009/NCBA%20booklet%202009.pdf
Links
Community content is available under
CC-BY-SA
unless otherwise noted.