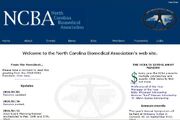 About
"The NCBA was formed in the late 1970's. Today we have over 500 members. Our mission is to provide high quality low cost education for BMETs and Clinical Engineers. Our primary method of accomplishing that goal is through our annual Symposium and Expo and through regional seminars offered throughout the year. We hope that you find this site a valuable source of information.
History
The North Carolina Biomedical Association originated in the late 1970's when a group of BMETs were invited to meet at the Area Health Education Center in the Wake County Medical Center in Raleigh, North Carolina. This original group of individuals established the foundations and guiding principles, which have made the North Carolina Biomedical Association the superlative organization that it is today. The By-Laws formulated by this group established the principal objective of advancing the development of personnel involved in the selection, operation, repair and support of biomedical instrumentation of Health Care Institutions.
The evening of November 5, 1980 was an historic time for the N.C.B.A. After months of hard work and planning, the North Carolina Biomedical Association elected it's first Board of Directors. Out of this group of ten dedicated individuals came the Association's officers:
President: Patrick K. Lynch, CBET
Vice President: W. Glenn Scales, CBET
Secretary: Wes Cormac
Treasurer: Eddy G. Whisnant
Directors: Jim Downing, Frank Forrest, CBET, Dave Curry, Dr. J.C. Boone, Clint Crites, CBET, and Bob Strickland, R.H.Ed.
In 2008 April 18th, NCBA NCBA sponsored a CBET certification seminar to be held at Caldwell Community College and Technical Institute in Hudson, NC by BMET Program Director at Caldwell, Mr. John Noblitt, CBE. Later that year on December 1st in Pinehurst, NC., the NCBA held its 30th annual Symposium. On 2009 December 9th, NCBA held its 13st annual event at the Embassy Suites Hotel in Concord, NC. The 2010, the 32nd year symposium is September 8 through 10, 2010.
Contact
North Carolina Biomedical Association
PO Box 388
Lenoir, NC 28645
web@ncbiomedassoc.com
Events
http://www.ncbiomedassoc.com/Symposium.aspx
References
Links
Community content is available under
CC-BY-SA
unless otherwise noted.