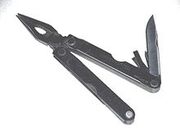 About
A multi-tool is any one of a range of portable, versatile hand tools that combines several individual functions in a single unit (e.g. knife, saw, file, screwdriver, pliers, tweezers, bottle-opener, etc). The smallest are credit-card sized units designed to be carried in a trouser pocket or belt mounted pouch.
Often, the tool is called by its many different types of names which is actually referring to the name brand of the OEM for the multi-tool. Some common manufacturers or names you might hear it called are:
Leatherman
Craftsman
Gerber
Coleman
Swiss
Warranty
In case of failure always return your multitool back to the OEM for warranty repairs. Typically, excellent warranties run for 25 years or more but does not cover abuse, alteration, theft, loss, or unauthorized and/or unreasonable use of your Leatherman product. Consult your owners manual for warranty information on your make and model tool.
Reference
Links
Video
thumb|300px|right|Leatherman Factory Tour