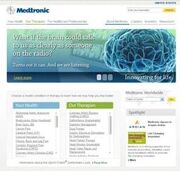 About
For more than 50 years Physio-Control, Inc., maker of renowned LIFEPAK defibrillators, has been developing technologies and designing devices that are legendary among first response professionals, clinical care providers and citizens everywhere. Our defibrillators set the standard upon which an entire industry was built. From the beginning, our product development was customer-driven. It still is.
With over 650,000 LIFEPAK external defibrillators in operation worldwide, Physio-Control is the global leader in external defibrillator. Physio-Control currently holds more than 70 percent of the domestic emergency medical services (out-of-hospital) market and nearly 50 percent of the domestic in-hospital market.
Products/Services
Contact
Telephone 1-800-442-1142 or 425-867-4000
Campus Address Physio-Control, Inc. 11811 Willows Road NE Redmond, WA 98052 USA
Mailing Address Physio-Control, Inc. PO Box 97006 Redmond, WA 98073-9706 USA
Links
References
Community content is available under
CC-BY-SA
unless otherwise noted.