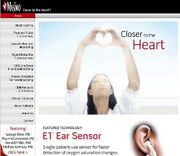 About
Masimo ia a global medical technology company that develops, manufactures and markets non-invasive patient monitoring products that improve patient care.
In 1989, Masimo invented Signal Extraction Pulse Oximetry, which enables the use of adaptive filter technology to extract the arterial signal from noise. In 1998, Masimo unveiled this breakthrough technology to the world; the first pulse oximetry technology with FDA clearance for motion accuracy claims. And in June 1999, Masimo SET became the first to receive FDA 510(K) clearance with indications for use during motion and low perfusion conditions on all patients.
Prior to the introduction of Masimo SET, pulse oximeters could only be relied upon for accurate measurement during ideal conditions. Today, after 6 years of clinical research, over 40 published clinical studies have shown that Masimo SET reliably and continuously tracks changes in arterial oxygen saturation and pulse rate during motion and low perfusion on all patients in all settings; giving clinicians accurate monitoring when they need it most.
Contact
Email: tech@masimo.com for Technical Service
Second Parts
Second Sources
Link
http://www.masimo.com/index.htm
Reference
Community content is available under
CC-BY-SA
unless otherwise noted.