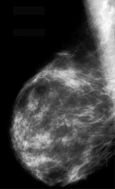 About
Mammography is a specific type of imaging that uses a low-dose x-ray system to examine breasts. A mammography exam, called a mammogram, is used to aid in the early detection and diagnosis of breast diseases in women. Quality mammography can help detect breast cancer in its earliest, most treatable stages – when it is too small to be felt or detected by any other method. [1]These devices include a high frequency or very low constant potential x-ray generator (usually from 20 to 35kV), an automatic exposure control, filters, a collimator, patient positioning features (e.g. compression devices) and an image recording system. Most mammography units use intensifying screen-film combination for image recording; some consist of an electrostatic recording system that uses a charged photo-conductive plate in place of x-ray film (xeromammography). Mammography units are primarily used to detect and diagnose breast cancer as well as to evaluate palpable masses and other breast lesions. The device operates on a 30 amp, 208VAC power circuit. The Mammography Quality Standards Act (MQSA) established baseline standards for radiation dose, personnel, equipment, and image quality.[2]
History
Philip Strax put together the first large effort to see whether or not mammography made sense in New York City. It is no accident that the first trial of this slightly uncomfortable technology emerged in a city also known as a center for feminist health theory and practice. Then and now the Upper West Side of Manhattan was a hotbed of women's body politics.
Working with one of the largest managed health care systems, the Health Insurance Plan of New York (HIP), in 1963, the study found more than 60,000 women who agreed to take part. Half were randomly assigned to get a mammogram, in order to find out whether or not healthy women with no sign of cancer would benefit. The program was stunning in breadth, bold and brash.[3]
Manufacturers
GE Medical
Siemens
Shimadzu
Hologic
Models
GE Medical - Senographe DMR
Siemens - MAMMOMAT 3000
Second Source Parts
Second Source Service
References
↑ FDA. Medical Imaging: Mammography. Page Last Updated: 06/06/2012. http://www.fda.gov/Radiation-EmittingProducts/RadiationEmittingProductsandProcedures/MedicalImaging/MedicalX-Rays/ucm115355.htm
↑ FDA. Mammography Quality Standards Act (MQSA) and Program. Page Last Updated: 10/11/2013. http://www.fda.gov/Radiation-EmittingProducts/MammographyQualityStandardsActandProgram/default.htm
↑ Davis, Devra , Ph.D. "The Secret History of Mammography", The Hoffington Post, 11 December 2010
Links
Community content is available under
CC-BY-SA
unless otherwise noted.