About this wiki | New pages | Categories | Wiki tutorial | Help pages
Article of the Month
A oxygen monitor is a medical device that indirectly measures the oxygen concentration or mixtures of a patient. Pulse oximetry is a noninvasive method for monitoring a person's oxygen saturation (SO2). It is often attached to a ventilator monitor so staff can see a patient's oxygenation at all times. Its purpose is to provide reliable oxygen analysis in places such as, respiratory therapy (e.g., respirators,ventilators, pediatric incubators), neonatal care, home respiratory care, and anesthesia.
Video of the Month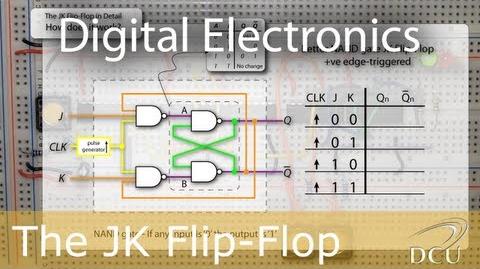 The J-K flip-flop is the most versatile of the basic flip-flops. It has the input- following character of the clocked D flip-flop but has two inputs,traditionally labeled J and K. If J and K are different then the output Q takes the value of J at the next clock edge. The inputs are labeled J and K in honor of the inventor of the device, Jack Kilby.
If J and K are both low then no change occurs. If J and K are both high at the clock edge then the output will toggle from one state to the other. It can perform the functions of the set/reset flip-flop and has the advantage that there are no ambiguous states. It can also act as a T flip-flop to accomplish toggling action if J and K are tied together. This toggle application finds extensive use in binary counters.
Association of the Month
The Florida Biomedical Society was founded in 1985 with one of its objectives being to promote the free exchange of ideas and information involved in the Biomedical Engineering Disciplines. The FBS Newsletter is produced for and by the Biomeds of Florida.
The mission of the Florida Biomedical Society is to promote the principles of quality patient care through the efficient management of biomedical technologies to better serve the medical community and other professionals involved in patient care, and to promote the free exchange of ideas and information involved in the Biomedical Engineering Disciplines, and the Biomedical Professional role in the Health care industry
Log in | Signup for new account
Statistics
1,704 articles since 2008.
17,570 edits made.
1,712 images uploaded.
30,875,910 users joined.
Helping Out
To write a new article, just enter the title in the box below.
Not sure where to start?