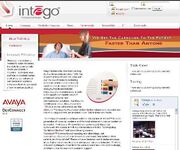 About
"Established by Charles E. Bell, Sr., Intego Systems, Inc. evolved from a manufacturer of audiovisual nurse call (internal patient-to-staff communication) systems to a nationally recognized leader of communications, data and locating networks and peripheral products for the healthcare industry. The company introduced the first Ethernet TCP/IP Network-based nurse call system which set the standard within the industry. It was that innovative, forward-thinking philosophy that led to the development of Intego's premier integrated communications, data and locating network systems: MedLink®, ElderLink®, ReportLink.net™, MedTrac.net™ and now introducing ProNet.net™.
Today, the Company continues to set the standard and raise the technological bar for inovative products, this history of innovation will continue with the introduction of the ProNet.net™ Nurse Call Network – the most advanced nurse call system on the market.
Intēgo® networked systems are the most comprehensive, state-of-the-art systems of their kind, seamlessly integrating to radio pocket pagers, infrared (IRID) locators for personnel and equipment locating, ADT HL7 integration, as well as offering a comprehensive call reporting package.Intego has installed systems in hospitals and long-term care facilities throughout the world, these facilities have trusted Intēgo® to meet their needs for integrated communications, data and tracking networks and peripheral products. With corporate headquarters in Jacksonville, Florida, Intēgo® has the resources and technical expertise to assist in consulting and engineering any healthcare communications project. In addition, the Company utilizes a network of qualified representatives, dealers and distributors to assist in the sale and installation of systems around the country and overseas. Whether our client's goal is to improve patient satisfaction, increase productivity or communicate more effectively, Intēgo® can create a uniquely tailored system that delivers the maximum benefit."[1]
Products
Contact
5343 Bowden Rd
Jacksonville, FL 32216
USA
904-260-6334
904-262-3661

Links
References
Community content is available under
CC-BY-SA
unless otherwise noted.