About
Hemodialysis (also haemodialysis) is a method for removing waste products such as creatinine and urea, as well as water from the blood when the kidneys are in renal failure. Hemodialysis is one of three renal replacement therapies (the other two being renal transplant; peritoneal dialysis).
Hemodialysis can be an outpatient or inpatient therapy. Routine hemodialysis is conducted in a dialysis outpatient facility, either a purpose built room in a hospital or a dedicated, stand alone clinic. Less frequently hemodialysis is done at home. Dialysis treatments in a clinic are initiated and managed by specialized staff made up of nurses and technicians; dialysis treatments at home can be self initiated and managed or done jointly with the assistance of a trained helper who is usually a family member.
Equipment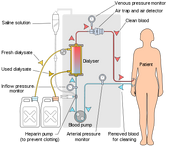 The hemodialysis machine pumps the patient's blood and the dialysate through the dialyzer. The newest dialysis machines on the market are highly computerized and continuously monitor an array of safety-critical parameters, including blood and dialysate flow rates; dialysis solution conductivity, temperature, and pH; and analysis of the dialysate for evidence of blood leakage or presence of air. Any reading that is out of normal range triggers an audible alarm to alert the patient-care technician who is monitoring the patient. Manufacturers of dialysis machines include companies such as Fresenius, Gambro, Baxter, B. Braun, NxStage and Bellco.
Life Support
"The following definition appears in the glossary of the JCAHO 2009 Comprehensive Accreditation Manual:
Life Support Equipment: Any device used for the purpose of sustaining life and whose failure to perform its primary function, when used according to manufacturer's instructions and clinical protocol, will lead to patient death in the absence of immediate intervention (examples include ventilators, heart-lung bypass machines).
Manufacturers
Gambro (also Cobe, Hospal & Redy)

Models
FRESENIUS 2008 K ,4008H,4008S,5008
Gambro - AK95S,AK200
Nipro- Diamax
Second Source Parts
Second Source Service
References
Links
See also
Community content is available under
CC-BY-SA
unless otherwise noted.