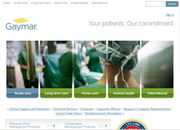 About
Gaymar Industries, Inc. was founded in 1956. Initially, Gaymar's product offerings were intended for the consumer marketplace but quickly transitioned into the medical market in 1958 with the introduction of oxygen tents. In 1960, Gaymar introduced the first product for the prevention and treatment of pressure ulcers, a patented design for an alternating pressure pad and pump. In 1963, Gaymar entered the field of physiological temperature management with special products for localized heat therapy as well as hyper/hypothermia systems for the systemic control of body temperature. These systems lent themselves to various care settings such as the operating room, recover room, ICU, critical care area, and the patient's room.
In 1983, Gaymar introduced the Sof•Care® brand of pressure ulcer products that revolutionized pressure ulcer patient care. The Sof•Care name remains the industry standard for cost effective management of pressure ulcers. The 1999 introduction of the ISOFLEX® technology gave caregivers a unique, patented gel offering revolutionary pressure redistribution and shear management in a nonpowered mattress. Gaymar's temperature management business continued to thrive with the addition of convective warming, blood and fluid warming devices, and conductive blankets that wrap around the patient to provide more effective temperature management. These body wraps, called RaprRound™, in conjunction with the Medi-Therm® III hypo/hyperthermia machine allow the clinician to induce therapeutic hypothermia per AHA guidelines.
Gaymar acquired Plexus® Medical, an innovative designer, manufacturer, and marketer of specialty medical mattress products in 2001. In 2002, Gaymar acquired Waterloo Bedding Company, a Canadian manufacturer of therapeutic foam mattresses and related products for the hospital, nursing home and institutional markets since 1908. Our Waterloo Bedding operation is a state-of-the-art manufacturing facility capable of designing and developing the Gaymar family of therapeutic mattresses.
In 2004, Gaymar partnered with Stryker® Medical to introduce XPRT™, a comprehensive therapeutic mattress system that offers rotation, percussion, vibration, turn assist, and low-air-loss within one system. Most recently in 2007, Gaymar incorporated the Silver3™ technology into the ISOFLEX mattress. This Silver3 technology is an unprecedented breakthrough in mattress cover technology.
Contact
Gaymar Industries, Inc.
10 Centre Drive
Orchard Park, NY 14127 USA
Telephone:
800 828-7341
716 662-2551
FAX:
800 993-7890
716 662-0748

Second Sources Parts
Second Sources Services
Link
Community content is available under
CC-BY-SA
unless otherwise noted.