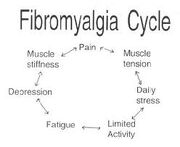 About
Fibromyalgia (FM) is an increasingly recognized chronic pain illness which is characterized by widespread musculoskeletal aches, pain and stiffness, soft tissue tenderness, general fatigue and sleep disturbances. The most common sites of pain include the neck, back, shoulders, pelvic girdle and hands, but any body part can be involved. Fibromyalgia patients experience a range of symptoms of varying intensities that wax and wane over time.
Symptoms
The overwhelming characteristic of fibromyalgia is long-standing, body-wide pain with defined tender points. Tender points are distinct from trigger points seen in other pain syndromes. Unlike tender points, trigger points can occur in isolation and represent a source of radiating pain, even in the absence of direct pressure.
Links
Community content is available under
CC-BY-SA
unless otherwise noted.