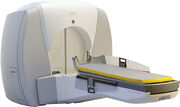 About
"Elekta is an international medical-technology Group, providing advanced clinical solutions, comprehensive information systems and services for improved cancer care and management of brain disorders.
Elekta's systems and solutions are used at over 4,500 hospitals around the world to treat cancer with radiation therapy, to diagnose and treat brain disorders as well as to run efficient and effective clinical practices.
Elekta is the world leader in image guided and stereotactic clinical solutions for radiosurgery and Radiation Therapy, giving radiation oncologists and neurosurgeons an unmatched capability to aggressively treat tumors and functional targets with ultra-high precision while sparing healthy tissue.
All of Elekta's solutions employ non-invasive or minimally invasive techniques and are therefore clinically effective, gentle on the patient and cost-effective."[1]
Products
Contact
Corporate Head Office
Elekta AB,
Box 7593,
Stockholm
SE-103 93
Phone: +46 8 587 254 00
Fax: +46 8 587 255 00
Email: info@elekta.com

Elekta Inc.
4775 Peachtree Industrial Boulevard,
Building 300,
Suite 300,
Norcross, Georgia
30092
Phone: +1 770 300 9725
Fax: +1 770 448 6338
Email: info.america@elekta.com

Links
References
Community content is available under
CC-BY-SA
unless otherwise noted.