About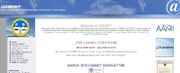 CABMET is an association of individuals interested in the advancement of Biomedical Equipment Technology dedicated to better patient care. The association encourages a free exchange of information between BMETS, hospitals, and vendors.
Events
CABMET STUDY GROUP
The Colorado Association of Biomedical Equipment Technicians (CABMET) CBET Study Group is getting ready to start again. We believe CABMET CBET Study Group is one of the best ways to study for certification. We are offering the group available by teleconference to everyone in the nation. You or your group can be part of our group from your home, office or hospital.
Study Group Facts
Started in 2004
CABMET has helped over 250 people get their CBET, CRES and CLES since 2004.
2005, 2006, 2008, 2009 Members of our group got the nations highest scores on CBET, CLES, or CRES
CABMET study group had 100% passing rate.
2006 CABMET study group members average score was 120 out of 150 possible
2006 CABMET study group was recognized in AAMI "Biomedical Instrumentation and Technology" Magazine
2007 Higher than the national average passing rate
2008 An article by an ICC board member noted Colorado for having the highest passing rate for the CBET test in the nation.
2008 Featured in articles in 24X7, 24X7 Weekly Jolt and AAMI News
2008 over half the people in the nation that earned CBET were part of our group
2009 CABMET offers a scholarship to all members of its group for the highest score
2009 100 techs from across the nation that got their CBET or CBET Candidacy were part of our group
2010 You can be part of our group and obtain your certification.
Website
Colorado Association of Biomedical Equipment Technicians (CABMET)
Community content is available under
CC-BY-SA
unless otherwise noted.