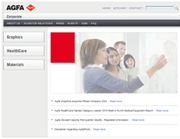 About
"Agfa HealthCare, part of the Agfa-Gevaert Group, provides advanced imaging and healthcare IT systems & services for clinical specialties and healthcare facility management. These systems and services span the entire healthcare enterprise, allowing facilities to improve efficiency and productivity while promoting advances in patient safety, medical outcomes, and quality."[1]
"Agfa HealthCare today offers its customers an extensive portfolio of solutions, including Hospital Information Systems (HIS), Clinical Information Systems (CIS), Radiology Information Systems (RIS), Picture Archiving and Communications Systems (PACS), Laboratory Information Systems (LIS), Cardiology Information and Image Management Systems (CVIS), solutions for reporting, enterprise scheduling, decision support, and data storage as well as Digital Radiography, Computed Radiography, print solutions, film and associated products."[2]
Agfa is on the list of Companies That Charge for Technical Support.
Contact
877-777-2432
Link
Second Sources
References
Community content is available under
CC-BY-SA
unless otherwise noted.